BIOGRAPHY OF ANDERS HULTHÉN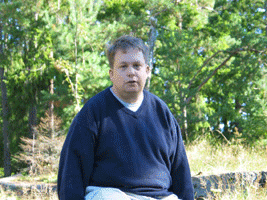 Halloo, it is I which is  Anders Hulthén.
I was born 1974 and I  am still living at  home with my parents  in Upplands Väsby outside  Stockholm in Sweden.
I am   interested of among other things mythology, family law , Marvel Universe, supernatural phenomena and Star Wars and I  like to listen on movie  music, especially soundtrack from adventure movies.
The TV-series and movies and I foremost watch   are they within the genres adventure and fantasy and also some  action and sciencefictionmovies, ,but the only ciencefictionmovies I like are Stargate, X-Men, Star Wars and  Total Recall.
Other things I am interested in are nobility, royal families and forms of  government different countries, I  am especially interested in  Empires, British  and Spanish nobility and the reigning royal families  in Europe.
I have study some courses  at local adult education (komvux) for example  webdesign and computer science I  have also on university level study among other things  law at both    University College(Högskola)  of Södertörn  and  University of Uppsala,   history and  political science at University College(Högskola)  of Södertörn and also information technology and  web programming at  University of Stockholm.
I like to make webpages.
The literature I like to read are  fantasy books or books based on movies  for example the Lord of the Rings, Harry Potter or about  Aurian or Star  Wars Young Jedi Knights.
This is a photo of me at our :country place
My family's  cat Rasmus ,born 1988

 

My favorite TVseries:

V
How the West Was Won (Family Macahan)
Stargate
Hercules; Legendary Journeys
Winds of War
The Charmed Ones
Xena The Warrior Princess
William Tell
If Tomorrow Comes

The Scarlett Pimpernell
Witchblade
The Count of Monte  Cristo

 

 
 
 

 
 

 

 
 

  My favorite Movies :

 Lord of the Ring; Fellowship of the Ring
Attack of the Clones 
Lord of the Ring; The Two Towers
Star Wars A New Hope
The Neverending Story
Return of the Jedi
X-Men
X-Men 2
Highlander
Mio Min Mio(Land of Faraway)
Legend
Willow
Star Wars;The Phantom Menace
Excalibur
Jurassic Park 
Robin Hood Prince of Thieves
Conan the Barbarian
The Empire Strikes Back
The Lionking
Spiderman
Commando
Firestarter
Return of the Mummy
Stargate
The Mummy